Overview
Bhoomi Vikas housing (P) ltd has experienced unprecedented growth and development. The Bhoomi Vikas housing (P) ltd has grown and prospered with the area maintaining a reputation for its professionalism, staff knowledge and service and enjoying an enviable brand awareness and positioning in the market.
Residential Plot sales
Bhoomi Vikas housing (P) ltd Real Estate offers you the very best in real estate service so for everything real estate – let our family look after yours
Actions speak louder than words and the fact that we have many of our landlords have had their property under management with us since our company began when it comes to Property Management, you can't go past the service offered by Bhoomi Vikas housing (P) ltd.
Successful property management is not one thing alone but a combination of requirements that need to be adhered to. These include:
Consistent monitoring and maintenance of property
Thorough documentation
Compliance with rules and regulations
Regular portfolio reviews ensuring maximum return
Continual updates on your property
Key features of the core insfrastructure
Fastest Development in Lucknow near our project
International Cricket Stadium
Super Spaciality Cancer Institute
IT City
Milk Processing Unit
IIIT
Metro Office
Amenities
41% Area as open space & park
Internal Tor Road
Water Supply for whole town
Sewage System
Electricity Supply
Jogging Tracks
Lush Green Landscape
Ample Parking Space
Kids zone with tiny tot, swing slope, video games
Security System
Sports activity-Badminton Court, Basketball ground
Entertainment Area-Party Area with canopy, Barbeque corner, Aromatic Garden
Commercial Complex & Retail Shops with lounche & Roof top cafeteria
Art activity-Music,Dance & painting classes
Art of Living classes, Yoga Classes, Aerobic Classes & Fish Therapy
Layout Map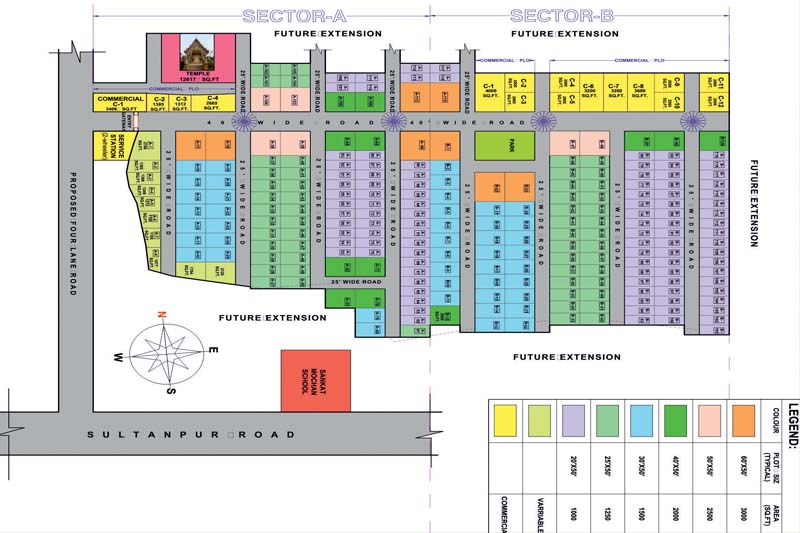 Distance from Places
Gosainganj : 1 km.
Shimla Public School : 500 meter
S.M.S. College : 3 km.
IT CIty : 8 km.
International Stadium : 8 km.